With Mother's Day coming up on May 13th in the U.S., I thought I'd round up a few great Mother's Day gift ideas for the special mother in your life.  That could be your own mom, your mother-in-law, to help your kids do something special for their mom, or for special grandmothers too.
It can be so hard to find original and thoughtful gifts for the people we love! I don't like buying things for the sake of it, but sometimes I take so long looking for 'the right gift', I end up missing the event all together.  Then I feel guilty for the rest of the year…
So I worked hard to compile a list of gift ideas that I'd be happy to give or happy to receive myself!  (For example. I would NOT be interested in this Peck Of Pickles, although that might be someone else's idea of heaven.)
This list has been grouped into gifts by price range, including some easy crafts you can make with the kids.  You don't need to spend a fortune to let someone know they are loved!
Mother's Day Gifts – $50 to $100
Have you heard of Amazon Launchpad?  They offer a range of products from startup companies, so there's some really fun, new products to be found there.
If the mother in your life likes to garden, or loves to use fresh herbs in their cooking, then this is a fun way to keep growing year round.  The unit is small enough to sit on a kitchen counter-top and uses LED lights to grow flourishing plants!
There are other versions of this kind of growing system, but this one gets solid reviews.  The unit comes in a variety of color options (black, red, teal or white.)
You can also by the AeroGarden unbundled from the shears and seed pod kits for $69.99.
Staying close to the garden theme, this elegant mobile from UncommonGoods makes a lovely addition to any outdoor space, big or small.
My lovely mother-in-law totally gets my style and introduced me to Sundance, which I love.  Robert Redford founded this company in 1969 and it features lots of handmade items from artisans.  It is a little on the pricey side, but the products are unique and good quality.
You can add a personal touch to this beautiful bracelet by getting it initialed – you just need to get your order in by May 4th!
Sterling Silver Stacking Rings from Lisa Leonard Designs – $59.99
These sterling silver stacking rings would make a wonderful gift any time of year.  The rings can be personalized with names, and  you can add more rings if needed.
Mother's Day Gifts – $30 to $49.99
A handheld espresso machine – what??  This nifty gadget makes to easy to get that much-needed shot of espresso to get mom going in the morning (especially handy if the littles still aren't sleeping through at night.)
Ok, I know not everyone is ready to welcome Alexa into their home.  But if you have a tech-lovin' mom that you're buying for, then this is a useful addition to the home which doesn't break the bank.  It's also easy to use – bonus!  The Dot is a hands-free device that is controlled by your voice.  Use the Dot to listen to music, ask what the weather is, or in the case of my kids – have Alexa make fart noises.
Who says technology and interior design can't go together?  This piece doubles up as a vase for fresh flowers and a smart-phone charging unit.  Your existing charging cable simply runs into the device via the specially-designed groove.  I think I need one of these!
Marks & Spencer is a well-known British department store that has been around for years.  It's most famous for being the place you buy your undies from!  But M&S has stayed with the times and also offers some classic clothing, home furnishings and gifts.  This wrap will come in useful for a jewelry-loving mom.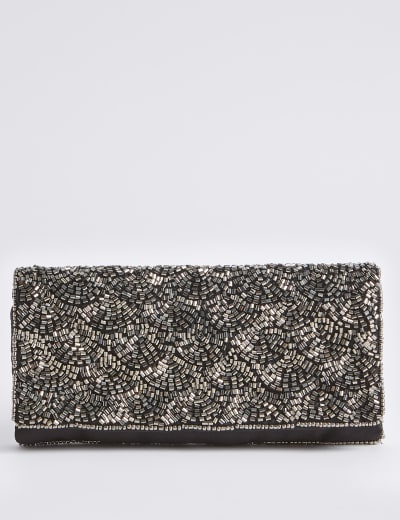 Mother's Day Gifts – less than $30
Reasonably priced at $26, this pretty box will keep trinkets, hairbands or any other knick-knacks safe and out of the way.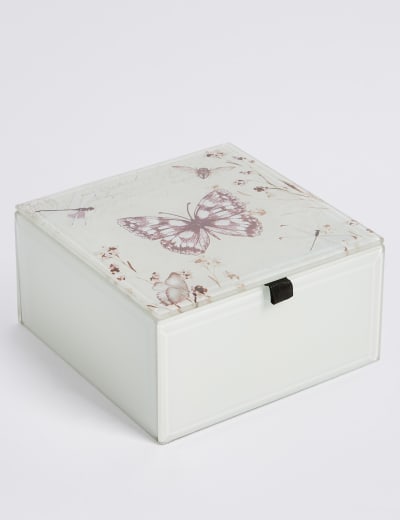 I do love Etsy for unique gifts – you just need to be sure you order sufficiently early as there can be a longer lead time on orders to ship.
This simple gift is delightfully presented.  If you have the time, you could even put something similar together yourself.  For $15 though, you can't go wrong.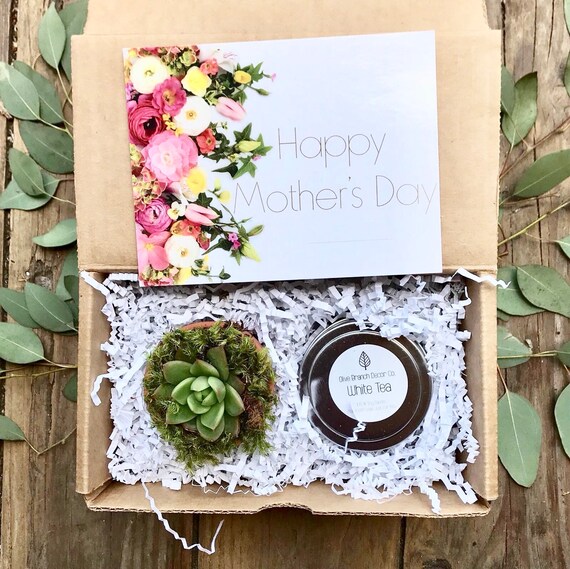 I have a few mama friends who would get a kick out of this.  Whatever makes mama happy, right?
Mother's Day Gifts – Crafts
If you want to give a gift that's especially personal, or if you're trying to save some cash, then there are tons of ideas online of crafts that you can do with your kids.  These are especially fun to make for grandma!
If your own crafting skills are dubious (ok I mean ME, MY crafting skills are dubious) – then for just $10.99 this little kit will make it easy for your kids to create a personal and functional gift for the home!  My kids garishly painted one of these and it has ended up being one of the birds' favorites.  The kit includes everything you need.
I love this salt-dough craft, because even I managed to make these successfully.  The dough is easy to put together, your kids will have fun squishing their hand in, and you can even have them paint it as well.  To seal the painted dough, apply a layer of PVA glue once everything is dry.
I haven't made this but I'm fairly confident I could do it without messing it up too badly.  Oven mitts are always handy, and make it extra special with a hand-print of your little one added to it.  Grandma will love it!
Dad's, you need to sneak off and make one of these with your kids.  It's so cute!  And easy.  Print out the printable, then fill in the blanks (either ask your child the questions write down their answers,  or have them fill it in themselves) then bind it together.  This is the kind of gift that will bring lots of joy for years to come.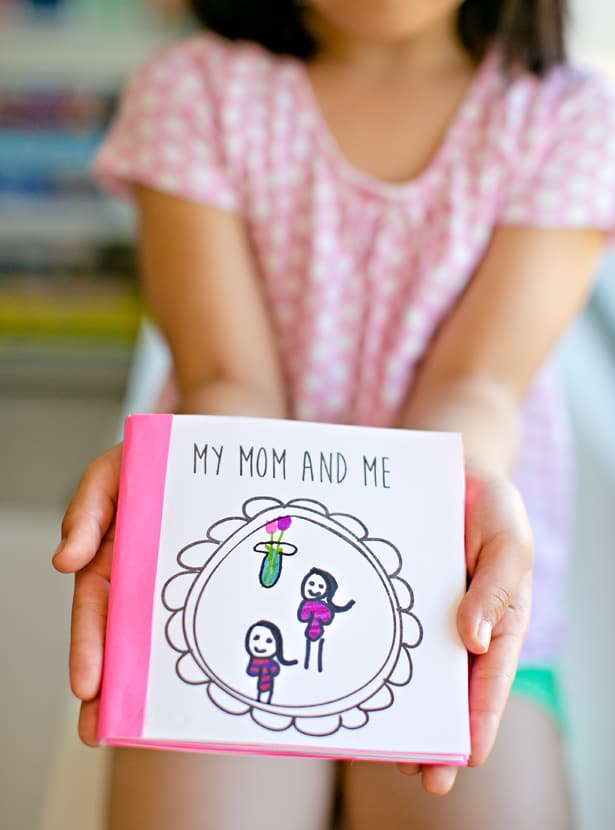 I don't know about you, but we have a collection of craft cubbies that have all sorts of materials and bits of paper tucked away in them.  Make use of those scraps and make these delightful cards to send to family!
That concludes my Mother's Day Gift Idea roundup!  I hope you find some good ideas.  What really matters is that whatever you give, is given with love – even if it's a phone call to a far-away mom, or a flower from the garden.  I want to wish a big old Happy Mother's Day to all my fellow Mothers out there – YOU ROCK!