We took care of the Mother's Day gift ideas just a few short weeks ago, and I promised to take care of the Dads too!  So here it goes, a quick round of up some great Father's Day gift ideas for 2018:
Bose QuietComfort 35 (Series II) Wireless Headphones, Noise Cancelling – $349
My husband loves his Bose Noise Cancelling headphones – perhaps it's to block out the noise of the rest of us rabble at home.  These are a great quality headphone – if you want to spend a little less, search for Bose QuietComfort to find some of the older series.
Mixtiles – $49.99 for the first 3 tiles
($9 for additional tiles, always free shipping)
Mixtiles are a really quick and fun way to turn your favorite snaps on your phone into lovely wall art!  Install the app, add the pics you love, then in 5 days your 8×8 prints will arrive ready to hang!
Man-Crates Jerky Ammo Can – $49.99
ManCrates.com is a tongue-in-cheek celebration of manliness, with a range of gifts delivered in a crate that needs opening with a crow-bar. They're a little pricey, but on the lower end of the price scale is this selection of jerky delivered in an ammo box that can totally be re-used for something else.
"WE'RE NUTS ABOUT YOU" PHOTO FRAME
I do like to do a little craft now and again, and have learned that in my case at least, simpler is always better.  This Nuts About You picture frame from Happiness Is Homemade fits the bill perfectly – and it comes with a free pun.  Dad jokes!  Click the pic for directions.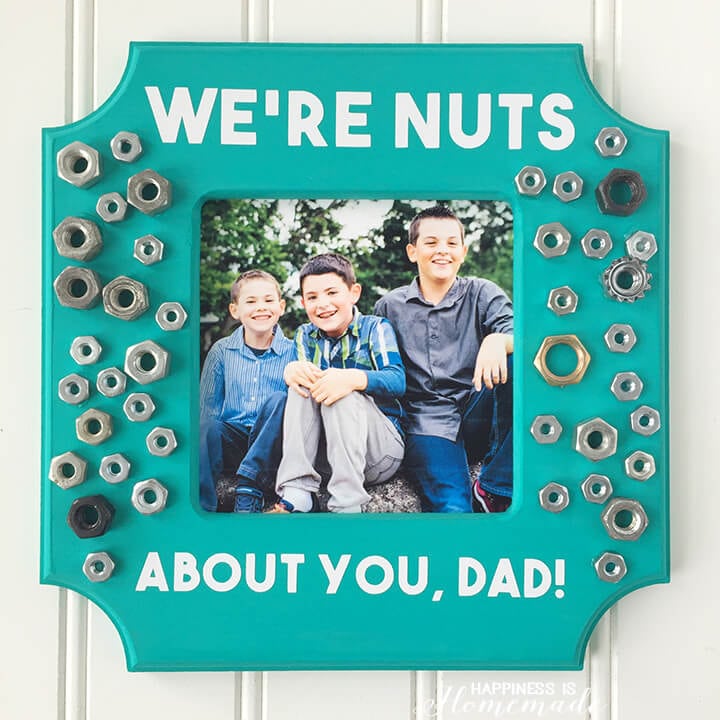 Homemade Trailmix In A Jar
Ok, you can't get simpler than this one from Lil' Luna, but it's still totes cute.  Make this Monster Trailmix with your littles and Dad will have something to snack on when he's busy doing Dad Jobs.

I hope all the Dads out there, young and old, have a splendid Father's Day next week.  You deserve to be spoiled too!